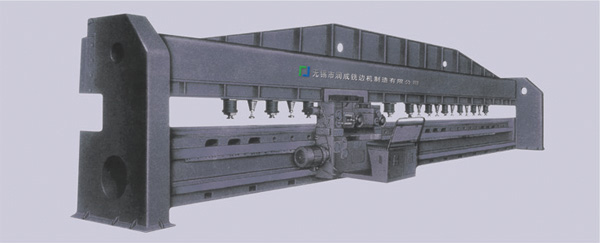 Function & Characteristics
1. High degree of Electrization and automation. Such as automatic clamping of the sheet, automatic feeding, automatic uplifting cutting tool and automatic direction change to the cutting stroke in the cutting process etc. to reduce labor intensity of operator and improve the abrasion resistance of machine tools.

2. Buttons and handles controlling and operating major operation of the machine tool are closed placed, so it is easy to operate. The rail of main gear box uses set-mounted structure, with its advantage of wear resistance and easy maintenance. The rail of machine tool has undergone a special surface quenching treatment; thereby the wear resistance of the rail is highly improved.

3. Machine Tool has hydraulic clamping system, immediate stop interlock for abnormal cutting stroke, interlock for cutting tool's automatic feeding and fast-moving, the runby buffer at both the ends of the machine tool and other security devices to ensure the operation safety of operators and machine tools.
Applicability:
This machine is applicable to shipbuilding, boilers, and other various metal structure factories to process edges of various metal sheets.
Technical Parameter: